New automation line for a laminanting line from HORSTKEMPER
14 January 2022
Hövelhof - Rudolf Henrichsmeyer formaplan GmbH & Co. KG | Rietberg - HORSTKEMPER Maschinenbau GmbH
Already at the end of 2020 the company Rudolf Henrichsmeyer formaplan GmbH & Co. KG for a new automation of their existing laminating line from HORSTKEMPER. The laminating line itself was retained, but underwent an extensive retrofit.
New, however, due to the extended product range of laminated surfaces of the Rudolf Henrichsmeyer formaplan, is the complete automation. Designed, manufactured and supplied by HORSTKEMPER: Starting with the feeding and conveyor technology as well as a throughfeed saw up to the destacking in the form of a drop shaft system.
Project team enables fast realization
The realization period from order placement to installation at the customer's plant was only eight months. This demanding project lead time resulted from the formation of a joint project team on the part of the customer Rudolf Henrichsmeyer formaplan and HORSTKEMPER. Through targeted design reviews and the valuable exchange of experience with users, it was possible to develop a customized plant solution for the customer.
"In particular, the separation of the many different materials in the feed proved to be a real challenge, which HORSTKEMPER met," says Jörg Großestrangmann, Managing Director of Rudolf Henrichsmeyer formaplan. In the course of the close cooperation, a very innovative solution was developed, which proves the success of the project for both sides.
Portal system with suction frame
In addition to the automatic feeding of the plate stacks via a customer-side cross-conveyor carriage into the infeed, the plates are picked up from the lifting tables in the infeed by a portal system with suction frame. Individually, they are fed to the overhauled laminating line via inclined roller conveyors. In addition to the various panel materials, material thicknesses from 3 to 40 mm can also be run.
Following lamination, the panels are fed into the new HORSTKEMPER throughfeed saw with scoring unit, where they are divided by a separating cut. Furthermore, two trimming units are installed in the throughfeed saw, which trim off the overhangs of the lamination. After the saw there is also a brushing machine to clean the surface of the laminated boards.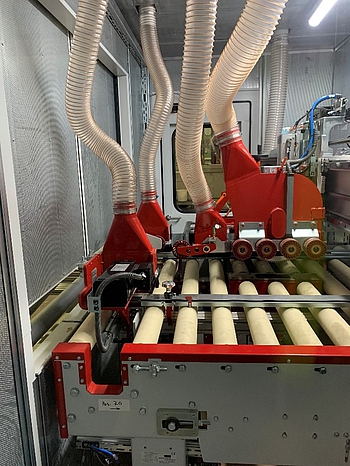 With the help of a divided roller conveyor in herringbone arrangement behind the saw, the panels are conveyed into the drop chute and formed into corresponding stacks there. The drop chute is designed with an intermediate buffer and two lifting tables as stacking stations to ensure uninterrupted operation.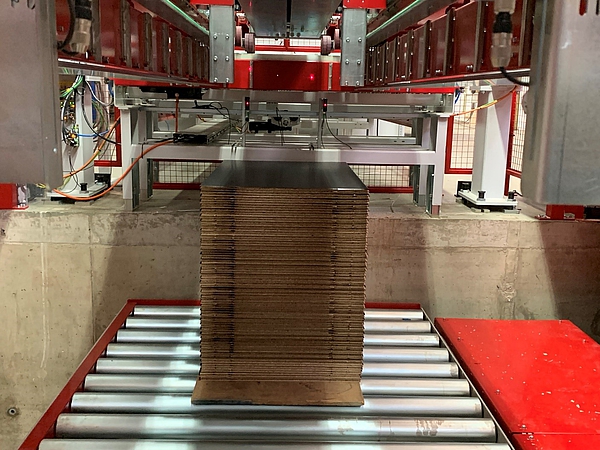 The intensive cooperation with Rudolf Henrichsmeyer formaplan made it possible to implement this project within an ambitious timeframe.