gets your processes flowing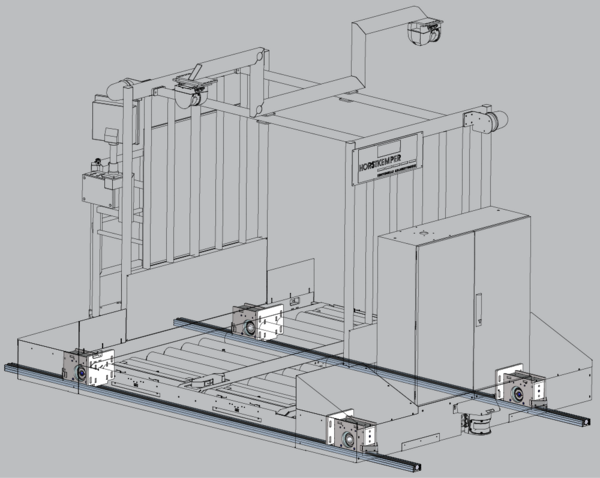 HORSTKEMPERs patent pending rail system waverail® has been re-designed and developed for the needs of individual systems. waverail® featuring the typical attributes of a 3-part, easily assembled rail system. Besides significantly improved clamping force between shaft and support profile, in comparison to conventional rail systems, there are additional advantages such as flush-floor installation, low rolling friction resistance of track rollers and the transport units sitting on them.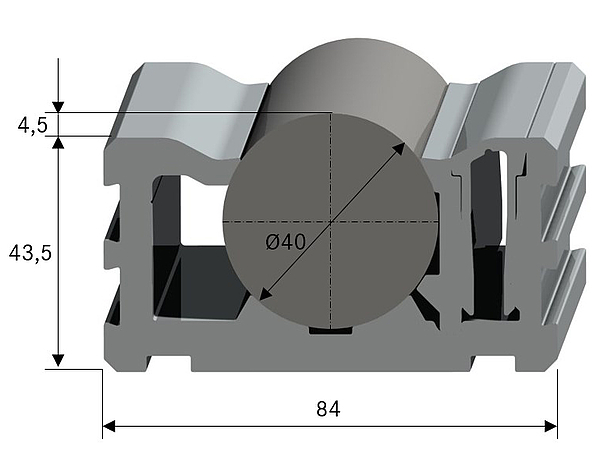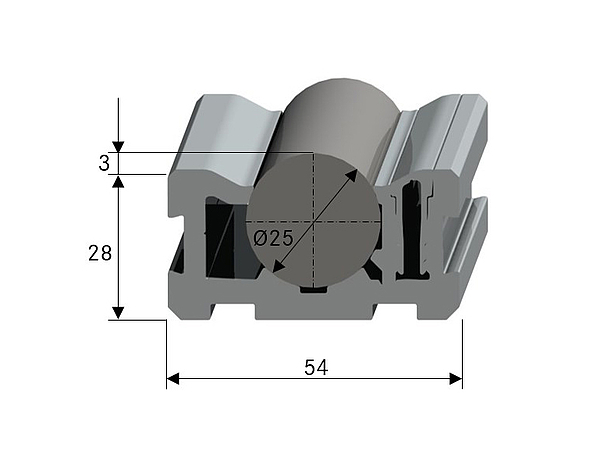 Ideal for small and heavy loads
The waverail® offers all the advantages of a rail system that is embedded into and flush with the floor. The hardened and ground shafts, which are fixed precisely in the support profile, ensure minimum rolling resistance. Due to its novel profile geometry, the waverail® features a significantly improved clamping system for fixing the shaft in the extruded aluminium profile.
The rail system is used in numerous industrial applications and use cases. These range from simple set-up operations to fully automated intralogistic material flows.
Thanks to its ingeniously simple construction, the waverail® is not only quick to install, but also incomparably efficient. The waverail® is suitable for small to very large transport weights and can be used to convey even the highest loads with low drive forces in an energy-saving, safe and precise manner.
In addition to the waverail® rail system, the experienced HORSTKEMPER team offers the entire spectrum of planning services as well as in-house production for all required mechanical engineering. We precisely test the individual customer requirements of each application and develops customised solutions.
Ideas - processes - solutions: For us, these are the key ingredients that go into developing a perfectly coordinated intralogistic concept - for you too.
Features and advantages of waverail® rail system wr25 and wr40
Simple floor-level installation in existing and new hall structures
The waverail® rail system has no tripping edges, can be easily walked over and driven over by all common industrial trucks, such as forklifts, lift trucks and sweepers
Easy-to-clean rail system without depressions and dirt channels
The waverail® rail system can be expanded as required, e.g. with intersections, turntables, switches, lifting tables etc.
High running smoothness, directional stability and positioning accuracy
Low energy consumption
Due to the low rolling resistance, heavy loads can be easily moved by hand or at low drive power, ensuring excellent ergonomics Short payback periods
Low wear and maintenance due to the compact surface and the system geometry (low life-cycle costs)
Colour marking and floor coating allow a clear delimitation of the rail track
The waverail® immediately reveals the "value stream" ➔ transparent structure within production
Optimisation of material flow in assembly
In addition to the product range of the waverail® rail system, we pursue a holistic system approach, so we naturally offer additional components such as wheel blocks or trolleys. Other products include:
Mounting devices for the waverail® rail system
Drive wheel blocks
Base indexing with base sleeves
Brake systems and stoppers
Crossing elements and cross-chassis for changing directions
Turning stations for changing directions
Trolleys
Transport trolleys with multi-axes
Drive systems for transport trolleys
Central cycle drives
Pneumatic drive aids for trolleys
Power supply via energy chains, cable drums, batteries or induction loops
Changing directions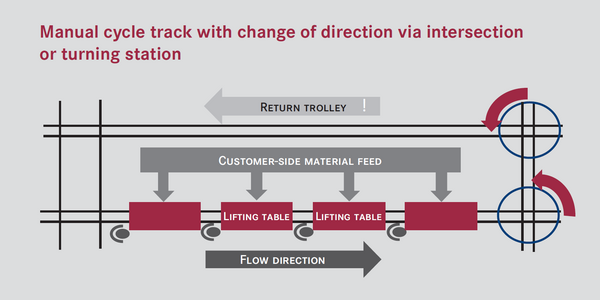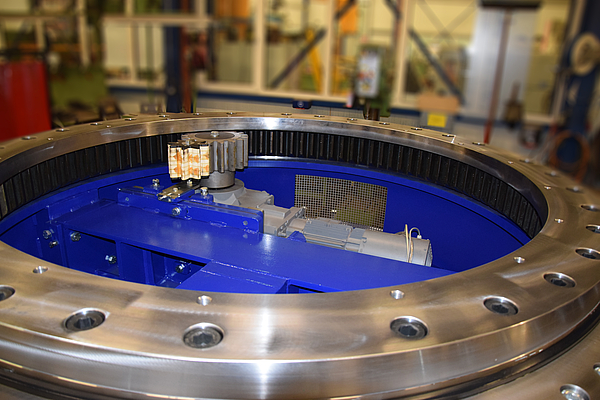 Of course, the waverail® rail system can also be used to change directions in the form of intersections or turning stations. This depends on whether the workpieces located on the platforms must remain positionally oriented or can be rotated by 90 degrees to ensure the correct material flow.
The waverail® thereby enables the mapping of extensive track layouts. Particularly in the case of variable workpiece feed routes employing a bypass or a transition of the rail track into adjacent halls, rail intersections or turning stations are ideal modules for the easy mapping of complex material logistics.