You are here: Service
Our raw material store as well as the complex machinery provides optimum manufacturing conditions and ensures fast availability of spare parts for delivery. The high level of vertical range guarantees considerable flexibility and independence as well as dynamic control for orders. Our top priority: The supply of spare parts within short delivery times to our customers. Any Improvement, expansion, conversion, retrofitting, inspection, repair and maintenance is undertaken by HORSTKEMPER staff all around the globe. Being a reliable partner, we make use of our entire range of services to ensure fast response and to provide timely solutions. In this context our range of services includes service agreements as well as specialist training courses focusing on different aspects of and for our plants. No matter what your service request - we will rise to meet each individual task.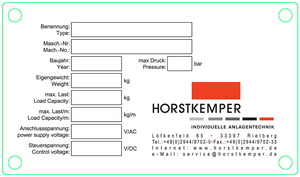 Project number
Machine number
This information can be found on the type plate.